METEOROLOGIST JEFF HABY
The Omega Block resembles the Greek letter Omega. The image below shows an example of this blocking pattern. Air over the Southwest U.S. in forced to the north into Canada and then back south into the Southeast U.S. by the huge high-pressure ridge in the center of the country.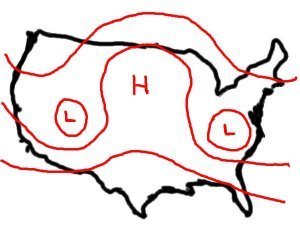 The high pressure covers such a broad latitude that the west to east air flow has difficulty going around the high. The region under the omega block experiences dry weather and light wind for an extended period of time while rain and clouds are common in association with the two troughs on either side of the omega block. Omega blocks make forecasting easier since you can pinpoint areas that will be dominated by dry or rainy weather for several days. The right side of the omega block will have below normal temperatures (due to CAA) while the region to the left will have above normal temperatures (due to WAA) in this case.